Tug toys for dogs in agility stimulate a canine's mental and physical abilities. It's an excellent way to keep a doggo busy, much so for Pitbulls who love chewing and pulling things. It's also a great outlet to release the extra energy of your pet so it won't vent out on your couch or shoes. If you're looking for a new way to play with your pooch, you should never miss these toys that are made durable.
DOG TOY
BRAND
EXPERT RATING
CHECK PRICE
Goughnuts TuG
Large Dog Toy

Check Price

Booda Fresh N Floss
Tug Rope Dog Toy

Check Price

XiaZ Interactive
Dog Toy Rope

Check Price

Tumbo Tugger
Exercise Dog Toy

Check Price

Redline K9 Dog
Bite Tug Toy

Check Price
How tug toys help dogs
Playing tug with your dog is an excellent way to enhance their mental and physical activities. Aside from that, it also brings tons of other benefits. It includes the following:
*Dental health
Tug ropes and rubber toys are made of materials that help clean your dog's teeth. Also, the process of biting and pulling helps reduce the formation of plaque. This way, your dog will have fresher breath and less risk of gingivitis.
However, you shouldn't overdo tug play as it can also damage the teeth and gums of your dog if done too much.
*Bonding with your pooch
There's no better way to bond with your dog but through playtime. Playing tug helps your dog recognize you as the alpha. Also, your pooch will recognize that you have control over their toys.
*Mental stimulation
Dogs like Pitbulls need constant mental stimulation to stay a well-rounded doggo. Tug toys are a great way to channel their predatory instincts into something more productive. Also, this form of rough-housing also prevents your canine from reacting aggressively toward other people and dogs.
Aside from that, tug toys also burn your pet's extra energy. This way, they won't chew the couch or shred your new pair of shoes.
*Physical exercise
Above all, playtime helps your Pittie stay in shape. This will help them reduce weight while keeping their muscles in good condition. It's also a good way to keep your doggo exercised even if it's raining outdoors or if you can't go for a walk.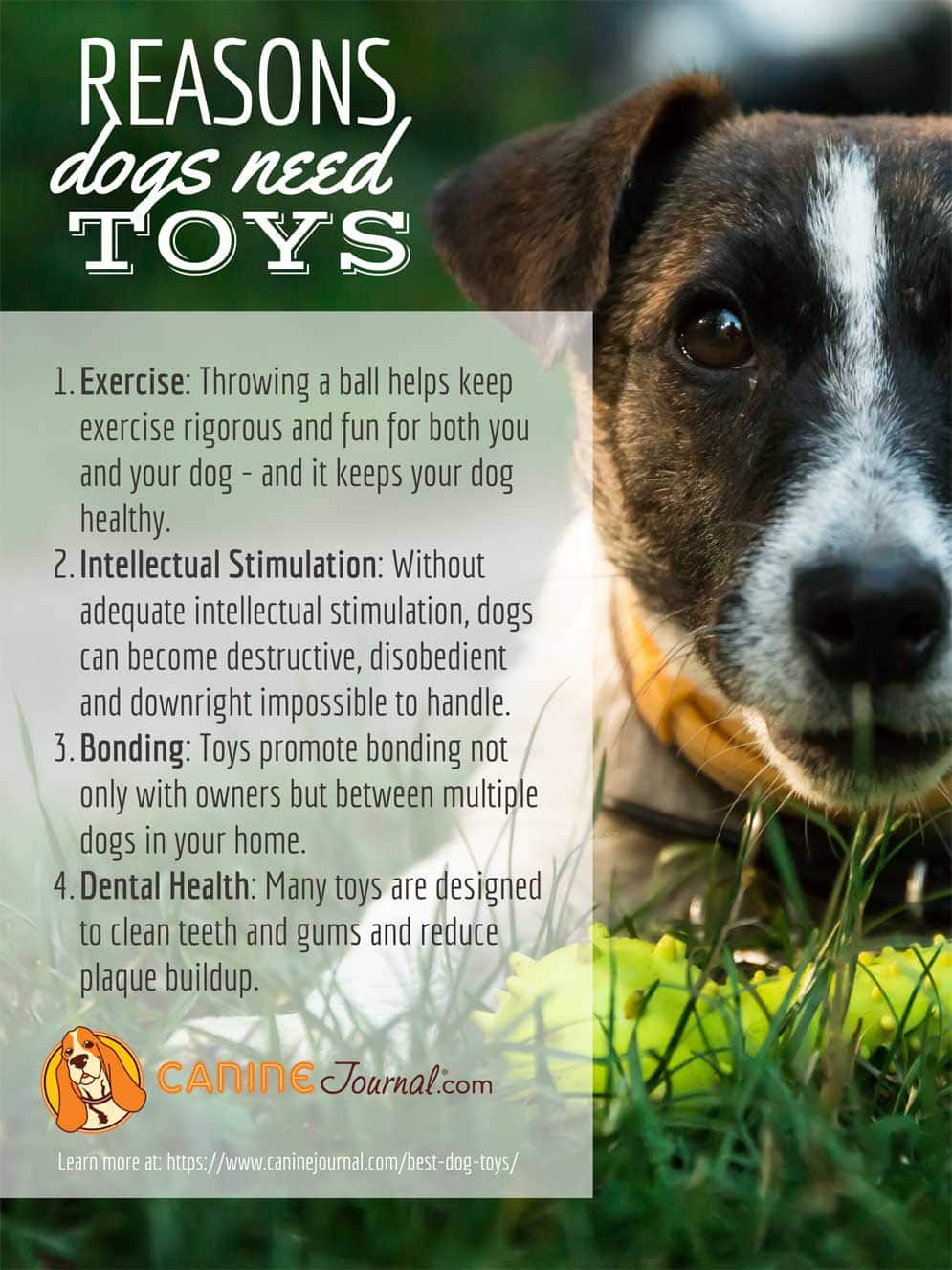 Source: CanineJournal.com
The rules of playing tug
Just like any other game, you should always set the rules when playing tug toys with your pooch. This is to prevent any negative result and to ensure that you and your pooch will be safe.
Rule 1: Your dog should let go of the toy when you say so.
Teach your dog first how to let go of the toy when you give the command. You should teach your dog the "Leave it!' command. If the pooch tries to grab the toy, end playtime and resume at a different time.
Rule 2: You should give permission first before your dog plays the toy.
Remember, you are the alpha, so you should be the one to tell when playtime starts and when it ends. If you want your dog to play, say the word "Get it!".
Rule 3: No biting on the skin.
Some doggos, including Pitties, tend to be overexcited when playing tug-of-war. This is why they end up biting their owners. To prevent this, teach your dog not to bite on human skin. If it does or taunts you, stop playtime right away.
How to choose the right tug toys for dogs in agility
Are you looking for the best tug toys for dogs in agility? If so, make sure that you consider the following points first:
*What does your dog prefer?
Does your dog love pulling toys as you hold it? Or does your dog prefer tug poles? It's important to factor in the preference of your pet to ensure that it will enjoy the toy you're going to purchase.
*Consider your dog's age
If your pet is still a puppy, you should look for soft and plush tug toys. This way, you won't chip off their little daggers. But as your doggo grows older, you can transition to tougher toys like ropes and rubber rings. However, as your canine enters the senior age, you should go back to softer toys to protect their fragile teeth.
*Check the material
Tug toys can be made of nylon for rope versions. Meanwhile, it can also be made of rubber if your pooch is an intense chewer. Many dog owners prefer rubber tug toys as it doesn't fray like ropes. Still, you can find durable fabric tug toys for smaller doggos and pups.
If you have a large dog that prefers tugging with ropes, look for one made of thick cotton threads. This will last for long before starting to fray.
*Choose the right stitching
Ropes and other fabric tug toys fray and unwound due to poor stitching. So if you're looking for one for your doggo, make sure that it has redundant stitching. We also recommend heavy-duty nylon stitching as it tends to endure sharp teeth. Also, make sure that the edges have been stitched well.
*Get the right size
Aside from the right material and type, you should also choose the right toy size. The bigger and stronger your dog is, the thicker and larger the tug toys for dogs in agility should be.
*Opt for comfy handles
As much as you want your dog to enjoy, it shouldn't be at the expense of your own safety. This is why you should look for tug toys for dogs in agility with comfortable handles. This will prevent chafing, even if playtime goes rough.
TOP 5 TUG TOYS FOR DOGS IN AGILITY
OUR #1 CHOICE
OUR TOP PICK: Goughnuts TuG Large Dog Toy
Product Name: Goughnuts TuG Large Dog Toy
Product Description: If you're looking for the most durable tug toys for dogs in agility, we recommend the Goughnuts TuG Large Dog Toy. It's made of the same durable rubber like the one used on the famous Goughnuts rings. It also has a red indicator layer. When you reach this layer, it's a sign that you have to replace the tug toy. Overall, this Goughnuts tug rings are 11 inches long and 6 inches wide, offering a mouthful tug toy for your pooch. Even aggressive chewers like Pitties will not shred this toy.
Offer price: $$$
Availability: InStock
Quality

Durability

Fun Factor

Value for Money
Summary
As a rubber toy, this is ideal for the dental health of your pooch. It's also guaranteed to be safe and non-toxic. The only thing we noticed is that it comes with a strong rubber smell at first. But after a deep rinse and a few days, it started to wear off.
Pros
✔️Guaranteed tough
✔️Red indicator layer
✔️Ideal for aggressive chewers
Cons
❌The rubber scent is strong at first
RUNNERS-UP
Booda Fresh N Floss Tug Rope Dog Toy
If you're looking for a tug rope that can take the punishment of sharp teeth, consider getting the Booda Fresh N Floss Tug Rope. It's a three-knot tug rope made of mint-scented dental rope. Aside from that, this rope has a wax-coated nylon material made from all-natural fibers. It will not fray easily even after hours of play.
This rope toy is made for extra large dogs with its 18-inch length. Even if it's a tough rope, it will not hurt your doggos gums, given that you use it properly. Nevertheless, you can get this rope in medium and large sizes as well to suit your pooch.
Aside from giving your pooch a nice playtime, the Booda Dog Toy Rope is a great way to keep their dental health in check.
PROS
✔️Dental floss fabric
✔️Wax-coated material
✔️Long-lasting rope
CONS
❌The spearmint flavor is very subtle
XiaZ Interactive Dog Toy Rope
For doggos who prefer tug poles, you should definitely get them the XiaZ Retractable Dog Toy Rope. It's an excellent muscle builder that you can hand on top of a pole or tree. At the end of the strap, there's a rope ball that your pooch can pull and chew to its heart's content.
Overall, this toy rope can be hung for 10 to 12 feet to allow your dog to run around and pull the toy. Aside from the fabric material, this tug toy has a polyester weave cover that prevents it from getting shredded. This is paired with a bungee strap that will keep your pooch busy with the bouncing and pulling.
If you want to play with your pooch, you can detach the orange tug toy. It's a very versatile option, especially for dog owners who have multiple pets at home.
PROS
✔️Bungee strap for added fun
✔️Polyester weave cover
✔️Detachable ball toy
CONS
❌Not as rugged as other tug toys reviewed here
Tumbo Tugger Exercise Dog Toy
If you have a pup, the little doggo will surely have fun with the Tumbo Tugger Exercise Dog Toy. It has a plush toy with a thin rope together with a bungee extension. You can tie it on your ceiling or other elevated surfaces at home at around 8 to 10 feet. It's also adjustable and you can tweak it to suit your pet's height.
Take note that this is made for pups and dogs weighing 25 pounds and below. This has a no-knot design that can last for long. What we like the most is that this Tumbo Tugger doesn't have any metal parts. Your doggo is 100% safe while having fun. And if the plush ball gets damaged over time, you can purchase a replacement.
PROS
✔️Replaceable plush toy
✔️Perfect for puppies
✔️No metal parts
CONS
❌Best for small dogs only
Redline K9 Dog Bite Tug Toy
If you want a tug toy that won't hurt your doggo's gums, consider the Redline K9 Dog Bite Tug Toy. It's made for agility and police dogs that have strong biting and pulling habits. This is also ideal for boosting the prey drive of your doggo and for keeping them busy.
This jute tug toy has a double sewn construction with an industrial-quality thread. Also, it has 1-inch thick nylon handles and strong, stuffed jute to endure even the toughest playtimes.
Overall, the jute is 8 inches long and 3 inches wide suitable for medium to large canines. It offers full bites without harm.
PROS
✔️Perfect for aggressive chewers
✔️Industrial-quality stitching
✔️Durable nylon handles
CONS
❌Not as versatile as other dog toys
Frequently Asked Questions
Q: Does playing tug of war with a dog make them aggressive?
A: If appropriately administered, tug of war games will not cause aggression among dogs. In fact, it can be used to dampen aggressive tendencies and to teach discipline among canines.
Q: Should I let my dog win tug of war?
A: Experts have varying opinions about whether you should let your dog win in tug-of-war or not. Some say that letting your dog win sometimes is good at building trust and confidence. However, letting them win too often may send a message of dominance.
Q: Why does my dog growl when we play tug of war?
A: Dogs communicate by barking, howling, and growling. Although some associate growling with aggression, it can just be a playful taunt while playing tug-of-war. Whenever your dog growls during playtime, make your hand limp, but don't give them the tug toy. That's how you tell your dog that growling is unacceptable behavior.
Q: Are tug toys good for dogs?
A: If played intelligently, tug toys can help build your dog's mental and physical discipline. It's also an excellent way to keep their teeth clean while maintaining the daggers away from your possessions.
Q: Is it OK to play tug with a puppy?
A: Yes, but make sure that you take it easy with those little daggers. Pups have small teeth that can get chipped easily. Avoid pulling, then tug toy or letting the dog carry its weight by biting into the toy.
Conclusion
When it comes to tug toys for dogs in agility, you should choose the best one for your doggo. Always check the material, construction, and needs of your pet. There are tons of options that you can find but always invest in a piece that will last long, aside from being budget-friendly.
What do you think of our options here? Let us know below